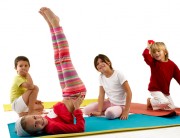 New line of fun, physical board games gets kids to put down the electronics and get up and get moving! Fun for the whole family, Upside Down Games are the perfect combination of traditional game play and physical movement - perfect for wiggly kids!
Signal Hill, CA, April 30, 2015 (Newswire.com) - Spin the spinner and let the fun begin with award-winning Yoga Spinner – and offer a special discount to your readers!
 
Spin the spinner, collect the cards, and perform yoga poses – without falling down laughing! The first player to collect a card of each color wins this perfectly portable, totally physical, great-for-family-game-night game.
 
The perfect combination of physical movement and traditional game play, Yoga Spinner is the perfect addition to family game night, fun for the whole family, from wiggly little ones to Grandma and Grandpa. And it's not just fun! Playing increases physical strength, coordination, and balance, too! Rated for children with special needs by AblePlay™ and included on the Today Show's top toy picks for 2013, Yoga Spinner has also won the Oppenheim Toy Portfolio Platinum Toy Award, Parent's Choice Silver Award, Dr. Toy's Best Picks, and Creative Child's Preferred Choice Award.
 
Upside Down Games is offering review and giveaway samples of Yoga Spinner as well as a 20% discount on www.upsidedowngames.us for bloggers, good through June 30th with code BLOGSUSA!
​Bloggers that are interested in reviewing the Yoga Spinner, please contact via this link.
Share: