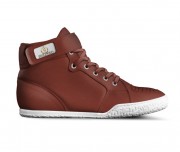 Luxury clothing line offers designer footwear that is handmade by Italian artisans using the finest, softest yet extremely durable leather to ensure fashion lovers top value for money.
NEW HAVEN, CT, November 9, 2015 (Newswire.com) - Though one of the newest entrants in the exclusive world of luxury fashion lifestyle, TucciPolo is quickly establishing strong roots in its industry by offering premium quality leather shoes. The online retailer has set itself from the competition by crafting each of its designs in Italy, the capital of premium quality footwear. It further ensures the quality of its male and female shoes by entrusting its designs to skilled artisans with years of experience in crafting the perfect leather into wearable masterpieces.

"Since Day One, our mission has been to create the perfect pair of shoes which make everyone they come across exclaim 'beautiful', ' magnifique', and 'bellissimo'," explained TucciPolo founder and CEO Tochukwu Mbiamnozie. "This is why we carefully select the designs we add to our inventory and put our all in the creation of every pair - from using only the best leather produced in Italy to ensuring that every shoe is handmade, hand painted and thoroughly hand polished."
While TucciPolo is proud of each of its designs, it offers its clients the ability to customize the shoes they purchase. All of the brand's footwear requires 15 business days to be crafted and delivered, which is why Mbiamnozie decided to add the customization feature. "I believe everyone has the right to express themselves through their clothes, accessories and, definitely, their footwear. Therefore, I decided that everyone should have a say in how their shoes look like and how they can reflect their unique sense of fashion," he added.
In addition to feeling responsible for providing the latest in luxury fashion, TucciPolo considers itself a strong contributor to the society. According to its corporate responsibility mission, it aims to alleviate poverty and help the less privileged. One of the ways it plans to achieve its mission is by providing numerous job opportunities in the U.S., countering unemployment and taking a proactive step towards eliminating poverty. Tochukwu Mbiamnozie has also committed to contributing a portion of the brand's profits to assisting local charities and partnering with them to achieve their respective missions.
To celebrate the launch of TucciPolo's constantly growing collection of handmade premium leather footwear, the brand has announced 10% discount coupons with the code 'TUCCIPOLO'. With these, buyers can enjoy ordering more shoes at amazingly reduced prices. The coupon, however, will expire by 12/01/2015, so make sure to order quickly.
To find out about TucciPolo or make a purchase using the limited-time coupon code 'TUCCIPOLO', visit http://www.tuccipolo.com right away.
About Tucci Polo
Established on May 4th, 2015 by Tochukwu Mbiamnozie, Tucci Polo is a lifestyle clothing line for men and women who take pride in being stylish and classy. In addition to offering a wide range of accessories, the new brand offers clothing, shirts and trousers designed by fashion-lovers including its own owner. To guarantee quality, products are manufactured in Italy. The store also promises the best customer service and a unique shopping experience.
Share: