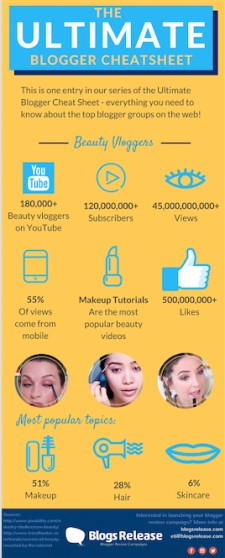 New York, USA, June 7, 2016 (Newswire.com) - Part V in our ULTIMATE Blogger Cheat Sheet series: the most useful stats you need to know about the top blogger groups for your own posts, campaigns, and research.
Marketing with bloggers is extremely trendy at the moment, and marketers are wondering how best to benefit from the thriving and influential blogging community in different industries. However, before launching a campaign, it is important to research the scope and type of influence bloggers wield in your field. The following chart from Izea shows how large the representation of influencers is in different industries:
Beauty/Fashion
When it comes to beauty and fashion it's all about product reviews and impressive visuals. These bloggers are more active on sites like YouTube and Instagram. Offer them samples and products to get your brand's name out there. Discounts for their readers and viewers are also a great way to drive traffic to your own site.
Source: BlogsRelease.com
Share: