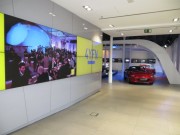 The event will feature the 4YFN Social Coin, a token through which attendees will be able to interact and create links generating new business opportunities.
Barcelona, Spain, January 18, 2016 (Newswire.com) - 4 Years From Now (4YFN), a global business platform for the growing community of international tech startups driven for Mobile World Capital Barcelona, will will reach 12,000 attendees and gather more than 500 investors at the third edition of its event, organised in collaboration with the GSMA Mobile World Congress.
This increase in the number of investors (up 50% from 2015), together with the expected surge in attendees, featured congress participants and major corporations, bolsters 4YFN 2016's role as a space for interaction and business for entrepreneurs and startups within the framework of the congress.
Index Ventures, Sandbox Partners, Maslow Capital Partners, DT Capital Partners, Relay Ventures, FundersClub and Notion Capital are some of the investment firms confirmed, whose participation will be key to the Founders & Investors sessions. This activity features two formats: speed dating meetings and Pitching Points, micro stages in which entrepreneurs can present their work to the community.
Founders & Investors, which at the 2015 edition set up more than 5,000 meetings between entrepreneurs and investors, will facilitate networking based on field of activity, investment needs and project maturity, among other factors. 4YFN's commitment to increasing the presence of investors at the event has also spawned the 4YFN Investors Club, a community of investors aimed at promoting business opportunities in the digital industry, to hold its first meeting at this year's event.
Leaders in innovation
As in previous years, 4YFN 2016 offers a specialised programme consisting of workshops and talks revolving around the event's three themes: Disrupted by Mobile (22 February), the Internet of Things (23 February) and Digital Media (24 February).
The latest additions to the 4YFN line-up are: Rich Miner, co-founder of Android, Inc. and an investment partner at Google Ventures; Mark Shuttleworth, founder of Canonical and co-founder of the free software company that developed the operating system Ubuntu; David Sable, Global CEO of Young & Rubicam; and Jessica Delpirou, Director of Meetic's Southern Europe Hub. Dirk Ahlborn, CEO of Hyperloop (a project launched by Elon Musk, co-founder of PayPal, SpaceX and Tesla Motors), and Marcus Weldon, CTO of Alcatel-Lucent, are other star speakers scheduled for this edition. With regards to panels, the 4YFN's programming will also offer attendees specific sessions on business innovation, Big Data, and innovation in food, education and health, among others.
4YFN 2016 will also feature a broad range of specialised events and projects. Among them, of note are the world finals of the Global Mobile Innovators Tournament, a competition organised by IBM and 4YFN; Future Trends and Insights, conference about future trends told through some of it's main players organized by Telefónica Open Future_, Startupbootcamp IoT & Data, Reimagine Food and Nominalia, along with the Fundació PuntCAT. 4YFN will also see the participation of the European Connected Health Alliance, which will display the potential of mobile technologies in the healthcare sector and welcome, for the third consecutive year, the members of the Imagine Express, a hackathon train that will travel from Barcelona to Paris to London and back from 19 to 22 February.
Digital innovation meeting point
The Innovation Market, the exhibition area for startups, large companies and accelerators, will host 400 exhibitors that will share their mobile products and innovations. Institutions such as the ICEX, ACCIO, BCN Activa, La French Tech, the European Investment Fund and UKTI (the UK's trade office), along with companies like Telefónica, IBM, Banc Sabadell, Adobe, Twitter and Zurich will also have a space at the facility.
In order to maximise the visibility and exposure of the entrepreneurs and startups present at 4YFN, the organisation promotes an innovative relationship model between journalists and startups: Pitch the Press. This programme will generate meetings according to a format similar to the Founders & Investors sessions, in which entrepreneurs make short presentations, lasting about 4 minutes, to journalists. At this time the activity has already secured the participation of Mike Butcher, Editor-at-large at TechCrunch, and Robin Wauters, founder and editor of Tech.eu, among others.
The pitching activities at 4YFN 2016 (Founders & Investors, Pitching Point and Pitch the Press) fortify the organisation's commitment to maximising interaction between entrepreneurs, startups and agents key to the development and strengthening of their projects. Specifically, these features will account for over 30 hours of scheduled programming. In order to further promote interaction among the participants, the meeting will also feature the 4YFN Social Coin, a token with which attendees can interact and create links resulting in new business opportunities.
Barcelona, a hub city for entrepreneurship
4YFN's success coincides with the growth occurring in Spain's tech startup sector. With 73% foreign capital, Spanish startups raised nearly 500 million euros in 2015, 87% more than in 2014, according to an MWCB study. Ecommerce and Fintech are the favourite sectors for business angels and venture capitals, the kinds of investors providing the most support to startups created in Spain. The same study indicates that one in four tech startups in Spain today were created in Barcelona, which is becoming a major hub city that attracts entrepreneurs and investors from all over the world. In fact, 60% of these startups are already operating at the international level, a fact indicative of the growth that tech companies founded in the city are experiencing.
Tickets: 15% discount added to the current 40%: Blog4YFNo1lh: http://4yfn.com/tickets
4YFN
4YFN (4 Years From Now) initiative by Mobile World Capital Barcelona is the meeting point for the growing community of global technology startups. This business platform brings together startups, investors and large companies, in order to strengthen the entrepreneurial ecosystem that positions Barcelona as a leader in digital entrepreneurship.
Throughout the year, 4YFN's team deploys a full spectrum of activities aimed at building tech startup communities. The highlight of the programme is 4YFN, held alongside Mobile World Congress, in partnership with the GSMA. This event has become the world's most influential startup event devoted to innovation in the digital ecosystem. The next edition will take place on 22th-25th February 2016 in Barcelona.
Mobile World Capital Barcelona
Mobile World Capital Barcelona is a shared vision and collective action to transform Barcelona into a mobile and digital hub and to improve people's lives. With the strong support of the public and private sector throughout Barcelona, Catalonia and Spain, Mobile World Capital Barcelona focuses on changing the economy, education, healthcare and lifestyles through four programmes: Entrepreneurship and Innovation, mSchools, mHealth, and Smart Living.
In addition to hosting the Mobile World Congress, MWCapital creates community platforms such as the Mobile World Centre and 4 Years From Now (4YFN), an event connecting startups.
Changing together at www.mobileworldcapital.com
Share: