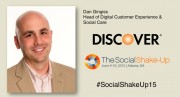 Putting the spotlight on one of the wonderful speakers who will be featured at The Social Shake-Up this June. Hear from Dan Gingiss, the Head of Digital Customer Experience and Social Care at Discover Financial Services.
Atlanta, GA, May 12, 2015 (Newswire.com) - Discover has long been known for its excellent customer service – and that hasn't changed with the advent of social media. The person responsible for making sure customers are happy, no matter what the channel, is Dan Gingiss, the Head of Digital Customer Experience & Social Care at Discover Financial Services. Dan is back to The Social Shake-Up for the third year in a row. Anyone who has met Dan knows that there couldn't be a person better suited to be the friendly face of a company. Dan was kind enough to answer a few questions this week; here's what was discussed:

"Dan, we're so excited to have you back this year at the Shake-Up. We had a great time with you in 2014. (Some of us even more than others.) Can you tell us a little about what you think sets this conference apart from others you've attended?"

"The Social Shake-Up has such a familial feel to it. This will be my third year at the conference, and I am so excited to reconnect with old friends. I love that the majority of the speakers are real social media practitioners who live and breathe the excitement – and challenges – of representing a brand on social media every day."

"Tell us a little about what you're going to be sharing with our attendees this year in your presentation, "The Impact of Social Media on Customer Experience."'

"Customer experience has quickly become a critical function for most businesses, whereas it used to be considered a "nice-to-have." For some, it has become a key source of differentiation that is easier to sustain than competing on price."

"Social media has added a new wrinkle to the equation, though, because today all brand experiences – positive and negative – have the chance of being broadcast publicly for our customers, prospects, and competitors to see. The result is that brands have to be laser-focused on the customer at all times, offline and online."

"Great offline customer experiences can translate into positive, shareable content in social media, while horrible experiences can prove disastrous in a much more public way. Likewise, how brands handle themselves in social media – both from a marketing and customer service perspective – contributes to the overall public perception of the brand."

"You were recently included in "Behind the Brand: 30 Influencers That Drive Social Media for the Brands We Love" by Leadtail & PureMatter – congratulations! In a nutshell, can you distill for our audience what it means to be a successful influencer, and how someone just starting out in social media might follow your lead? "

"Thank you! It was an incredible honor to be included with so many amazing people on that list."

"As with brands, the main goal for individuals on social media should be engagement. It's no longer about how many followers you have, it's about how engaged those followers are with you and your content. On Twitter, I try to curate and share interesting articles across a fairly consistent set of topics that I think my network will enjoy and value. Not coincidentally, these are topics which I am passionate about and often speak or write about as well."

"For those just starting out, I'd advise that they first find their passion points so they can quickly reduce the hugeness of social media into more manageable pieces. It doesn't really matter what the topics are, as long as you believe you can share your passion and contribute to the online discussion. Then download a newsreader app like Zite or Flipboard that will help curate articles about those topics. Share multiple times per day, use one or two relevant hashtags to capture the interest of people who don't yet follow you, don't be afraid to re-post things that worked before, and always respond to people who take the time to engage with you."

"Before we let you go, let us know a couple of the panels you're excited to attend at The Social Shake-Up."

"I am very excited about the "Collaboration for Omni-Channel Success: How Service and Marketing Intersect" panel, not only because it's something I experience all the time at work, but also because I've walked away inspired every time I've heard Natanya Anderson from Whole Foods speak! I'm also interested in "From Social Listening to Creative Output: Following the Yellow Brick Road" because listening is a continuously evolving skill with lots of data and lots of potential solutions."

"Whichever sessions I choose, though, I know this: we're going to shake up Atlanta again this year!"

Thanks to Dan for taking the time to answer these questions. Don't miss out on seeing Dan and a host of other experts from leading brands, up close and personal, this June – grab passes by May 22nd for over $250 in savings. Save an additional 20% by using code "BR20."
Share: