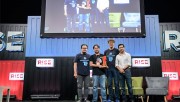 More than 300 startups from 36 Countries participated at RISE conference; All 3 finalists are from Hong Kong.
Hong Kong, August 4, 2015 (Newswire.com) - ​RISE has over, so here are the highlights of the event:
THE WINNER IS…AMBI LABS
In short, this IoT startup makes a smart add-on for air conditioners. The product learns about habits and home environment and auto adjusts AC for ideal temperature and energy savings.
These guys started out on Kickstarter and ended up 460% funded by 749 people with $114,892 raised.
WHERE DID THE IDEA COME FROM?
Julian has a 12 year old husky. Hong Kong gets really hot in summer. But AC uses a tonne of energy.
The founders traveled around Hong Kong, Japan and Singapore interviewing people. Hearing problems people are plagued with helped them to develop their concept.
WHAT'S ON THE ROAD MAP NEXT?
The company is close to shipping their Ambi Climate product. 200 beta units ​been shipped to 15 different countries.
AMBI LABS hope to raise investment in the next couple of months. Get into the market, scale work and push out Ambi Climate quickly. Some of the judges and media asked them about expanding in China. AMBI LABS isn't in a rush, but when everyone is asking, the company needs to sit back, listen and evaluate.
WHAT WAS THE HIGHLIGHT AT RISE FOR THE AMBI LABS TEAM?
AMBI LABS received lots of interest from investors at RISE. The main highlight for them however was seeing the Hong Kong startup community and ecosystem at the forefront of the event. For Julian this proves many of the media wrong, and that the Hong Kong startup ecosystem is growing fast.
OTHER INTERESTING STARTUPS
Julian emphasized his excitement for the number of international startups coupled with local Hong Kong startups at RISE. He was impressed with runner-up, Soundbrenner.
They also loved meeting the likes of Floship who provide shipping services – something of interest to Ambi Labs as they need to ship their own product.
CONGRATULATIONS TO THE RUNNERS UP
The world's first wearable device for musicians. Time to eliminate the torturing click-sound of a metronome when playing music. They started out on Indiegogo with the Soundbrenner Pulse – a wearable metronome that relays tempo to the musician or dancer through haptic vibration technology. The musician can control the setting of the wearable via a smartphone app.
Prenetics is a DNA bio-tech company focused on providing parents a higher level of pre-natal care which is highly accurate, safe, and non-invasively. They've raised $2.7m of funding in one round. You don't often hear of 5-year-old companies raising multi-million dollar seed rounds!
This company has some impressive talent, including CEO Danny Yeung, who led Groupon's East Asia business before. Last year they launched 'Prenetics V', a Non-Invasive Prenatal Test that uses DNA to test for 16 different health conditions in a fetus. Amazing.
CONGRATULATIONS TO ALL!
Share: