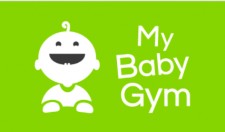 The MyBabyGym tablet app: a Personalized Tummy Time trainer! An innovative gym for babies that turns their physical Tummy Time training into an enjoyable experience and enables parents to track their baby's motor development progress.
TEL AVIV, Israel, October 18, 2017 (Newswire.com) - Since the BACK TO SLEEP campaign in the early 1990s, many parents find that their babies experience difficulty while practicing Tummy Time to strengthen their neck and back muscles. Specially designed "developmental toys" are not very effective in helping young babies practice, and many Tummy Time training attempts ends up with a crying baby and a guilt-ridden parent. This causes many parents to avoid initiating Tummy Time as often as pediatricians recommend, which dramatically increases the likelihood of medical issues such as flat head syndrome, torticollis, and side preference, among others.
Meet MyBabyGym, the perfect gym for babies:
MyBabyGym turns this horrifying experience into a fun activity for both babies and parents, fostering better Tummy Time practice and enabling parents to track their baby's progress.

Danny Saar, Founder and CEO
The MyBabyGym tablet app turns a baby's daily Tummy Time practice into a fun and rewarding activity and enables parents to easily track their baby's progress.
The MyBabyGym app uses the tablet's cameras and advanced computer vision technology to view and analyze the baby's position and actions. It then presents adorable, age-appropriate animations with voice feedback that encourage the baby to lift their head and look at the screen, which strengthens the neck, back, and chest muscles and builds gross motor ability. When the app "notices" that the baby is having a hard time keeping their head up, it changes the animated stimulus and voice feedback to encourage the baby to keep their head up and continue practicing.
Training sessions are limited to 5 minutes in length, since - just like adults - babies build muscle strength in short, intensive training bursts. Young babies will start with 1- or 2-minute sessions and gradually progress until they can easily complete a full 5-minute session. At the end of each session, parents are presented with the session's data and stats, allowing them to easily track their baby's progress.
Moreover, the training session, which is similar to a short FaceTime conversation with an animated friend, is recorded and saved as a sweet video clip, making it fun and easy to share the baby's progress with family and friends.
Training initiation and frequency:
It's important to start Tummy Time practice from the baby's very first day of life! However, we recommend using the MyBabyGym app from the age of 8 weeks (2 months) until the beginning of the crawling stage (6-7 months), when babies naturally begin to focus their interest on other things. Young 8-week-old babies will usually start with 1- or 2-minute sessions and gradually progress until they can easily complete a full 5-minute training session.
We recommend practicing 3-4 times a day with the app so that the baby will get used to the posture and so that parents can more easily track their progress. We also recommend practicing Tummy Time without the application several times a day in order to speed up baby's progress.
Is Tummy Time a new phenomenon?
Tummy Time is when a baby is placed face-down on their tummy and must push their torso up and lift their head to see the world around them. Tummy Time helps babies strengthen their neck, back, and chest muscles, and it is the basis for mastering other gross motor skills like pushing themselves up, rolling over, and eventually sitting and crawling.
Until the early 1990s, parents used to put babies to sleep on their stomachs, so babies practiced Tummy Time all the time, strengthening their back and neck muscles. In the early 1990s, health authorities started to recommend that babies sleep on their backs to avoid SIDS. The recommendation led to a dramatic decrease in the prevalence of SIDS but, at the same time, created a huge increase in the prevalence of many medical and developmental issues, since babies were no longer strengthening those back and neck muscles enough. Why not? Because Tummy Time became hard and frustrating for young babies who weren't used to it, and parents started to do Tummy Time practice less and less to avoid their baby's unhappy reaction.
Today, health authorities recommend that babies should start practicing Tummy Time - when they are awake and supervised - from the first day of life in order to avoid medical problems and stay on track with their motor development.
The team:
MyBabyGym was developed by parents and developmental experts who identified the need for advanced technology to help babies and parents improve motor development through better Tummy Time practice.
Danny Saar, founder and CEO of Parenting Science (the app's developer), says: "We started to develop the app following the personal difficulty I encountered as I wanted to help my third daughter, Rona, when she was a baby. Rona hated to practice Tummy Time. I bought every toy in the store but it still didn't help and every attempt ended up with the baby screaming and me feeling guilty.
"MyBabyGym turns this horrifying experience into a fun activity for both babies and parents, fostering better Tummy Time practice and enabling parents to track their baby's progress."
Ma'ayan Riwkes-Spectorman, Parenting Science's Chief Physical Therapist, explains: "The medical establishment acknowledges the importance of Tummy Time and encourages parents to actively practice it starting from birth. The purpose is to improve the baby's motor development and avoid common developmental deficiencies. But many parents don't comply, and as a result, may unintentionally hurt their baby's health.
"The MyBabyGym app gives parents a new tool for improving Tummy Time practice. From our experience, it interests the baby and increases the baby's and the parent's tolerance so they can practice as needed. Also, the fact that the baby is engaged by the app enables the parent to focus their attention on helping the baby refine their posture and improving the quality of the training."
About Parenting Science
Parenting Science is developing the next generation of developmental accessories for babies, parents, and health professionals. It focuses on the 0- to 12-month segment and combines advanced, patented technology with unique data gathering and analysis. The company also develops unique telehealth platforms that enable health professionals to pre-screen babies' medical conditions and improve medical treatment and effectiveness.
Link to the iPad App Store: https://itunes.apple.com/il/app/my-baby-gym-the-personalized-tummy-time-trainer/id1062699414?mt=8
Android version - - coming soon.
For more information:
Danny Saar, Founder & CEO
Danny@mybabygym.com
+972-52-2811910
​https://www.facebook.com/mybabygym
​https://www.instagram.com/mybabygym_app
Source: MyBabyGym
Share: