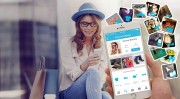 Mijem is the best place to discover gems.
New York, USA, November 19, 2015 (Newswire.com) - Have a shoe collection? A handbag collection? A car collection? An amazing furniture? An interesting art?
Well now, Mijem allows to build online collections of gems. With Mijem, there will be no more disorganized posts. People can browse specific collections that interest them (example: jewelry and shoes only). Followers are also notified when new gems are added to collections. Combined with optional features such as the ability to add prices and links, Mijem is a powerful social media to share a clothing collection, a shoe collection, a jewelry collection, etc. all in an organized manner. Mijem is a free app to download!
Mijem is a social C2C company that connects consumers with other consumers, enable C2C commerce, and builds trusted communities.
On Mijem, consumers are able to:
-discover new products posted by other users
-buy, sell, or trade with other users
-build communities they trust
Users create profiles and add items to their collections. Users can follow other users. Lastly users can chat and engage in other C2C activities.

Share: