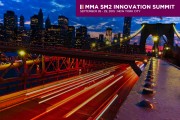 The 2015 MMA SM2 Innovation Summit will be held on September 28, at Pier Sixty overlooking the Hudson River.
New York, New York, August 24, 2015 (Newswire.com) - Mobile presents the most significant business transformation we will see in our lifetimes, but while the opportunity is extraordinary, achieving the perfect synergy of Innovation, Measurement & Transformation is complicated. The MMA SM2 Innovation Summit is designed to unpack and illuminate, including a focus on:

Roadmap

on how to leverage the changing DNA of how brands can connect more closely with their consumers

Present technologies that are pushing the innovation boundaries of

mobile's

full potential

Show how mobile delivers irrefutable metrics against a brand's key objectives from awareness to purchase intent to sales conversion

Allow you to experience the "Internet of Things" first hand to spark inspiration into what might be possible

Provide actionable insights into the mobile toolkit with guidance around use of location, video, native, programmatic,

apps

and much more

Featured speakers:

Daniel Bonner- Chief Creative Officer,

Razorfish

Global
Kristen D'Arcy - Vice President Global Digital,

Coty

Inc
Simon Fleming-Wood - Chief Marketing Officer, Pandora
Chris

Glode

- General Manager,

MapMyFitness

/VP, Connected Devices, Under Armour
Hans

Helbig

- Global Head of Digital Marketing,

Reckitt

Benckiser

Tom Kelley - General Manager,

IDEO

Dennis

Maloney

- VP, Multimedia Marketing, Domino's
Stephanie

Messiter

- Director of Performance Marketing,

HotelTonight

John Osborn - President & CEO,

BBDO

New York
Eric

Salama

- Chairman & CEO,

Kantar

With such exceptional marketing talent joining the speaker line-up each week, the event is set to provide you the inspiration and vision required to be successful with mobile.
Receive 15% off tickets with code 'BLOGS15_15'
Share: