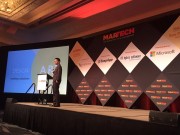 Drive Your Digital Transformation Efforts at MarTech USA, San Francisco, CA: March 21-22, 2016.
San Francisco, CA, March 15, 2016 (Newswire.com) - Marketing technology has experienced amazing growth this year on just about every metric imaginable — more new ventures, more acquisitions, more adoption, more investment, more technical advancement, more marketing technologists, more capability maturity inside marketing teams. The pace of innovation is mind-blowing.
Passionate about the way marketing technology is changing — and, more importantly, the way it is changing marketing and marketing management? — then plan to attend MarTech in San Francisco next spring.
Learn how to harness marketing technology innovation to deliver amazing customer experiences. Program chair Scott Brinker has been following the rise of marketing technology and the "marketing technologist" professional on his blog, chiefmartec.com, since 2008. See what to expect by checking out the video summary and reading what past attendees have said.
Register for 2 days of case studies, strategic insights and networking opportunities. Learn more about our attractive team discounts of 10%-20%. Lock in the lowest rates using promo code MT100BR and get $100 off prevailing rates. Register today!
Share: