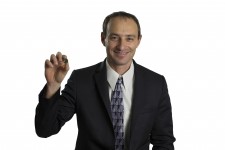 The company which is focused on rapid development of IoT and VR/AR technologies - Offers a tiny computer with sensors and an SDK that can make any device smart.
TEL AVIV, ISRAEL, May 26, 2016 (Newswire.com) - ​Gemsense has contested with over 200 local Chinese startups to win 1st place at 'the Second China Fair for Innovation and Technology' in Shenzhen. The company also won 3rd place in the VR section in the same competition.
Shenzhen is considered China's "Silicon Valley" and home to some of China's most successful high-tech companies, including Tencent, ZTE, TP-Link, DJI, OnePlus and Huawei
Gemsense will represent Shenzhen city at the national finals which will be held on May 27, 2016 in the city of Guangzhou – where it will compete against 16 other companies who qualified (out of 4,000) in other major cities
The company was represented by Mr. Raphael Genis from 'Genis & Genius' who will also represent it in the national finals.
Avi Rabinovich (Gemsense CEO): "We see the Chinese market as a great opportunity for growth and distribution and creating value for the investors in a short time. We develop and sell our products in various industries such as: Smart Toys, Smart Furniture, Wearable Technologies and Natural Interfaces in VR / AR.
These days the company is in touch with major VCs for an upcoming Series A round."
Yael Mittelman, (hiCenter CEO): "We're very proud of Gemsense's success. The company which grew in our incubator integrates technological innovation in the hottest fields today with a business understanding and a presence you just can't ignore. The company operates in strategic markets such as China, Taiwan, US and Europe which makes them a very promising startup. I have no doubt you'll hear more about this fascinating company".
About Gemsense
The company developed a unique offering called a "Gem" - Based on a tiny hardware solution with algorithms, software libraries and connection to cloud technologies which allows its clients to rapidly build and develop a wide range of smart devices and connect them to the digital world.
The company offers a complete solution from prototyping to mass market and works closely with partners to enable extremely short TTM
The company was founded in 2014 by Avi Rabinovich (CEO), an entrepreneur who served in executive positions in a few global hi tech companies and Jonathan Schipper (VP Products) a wearable expert and pioneer, lecturer and the lead for the Israeli wearable tech community (Wearable Tech Israel, The Wearables Group)
The company was founded at the hiCenter Incubator in Haifa, Israel.
Gemsense contact, website, dev corner and social media links:
General inquiries: contact@gemsense.cool,
VP Product: Jonathan Schipper, johnny@gemsense.cool, +972-54-5794555
Website: http://gemsense.cool/
Dev Corner: http://dev.gemsense.cool/
Facebook: http://fb.cool/
LinkedIn: https://www.linkedin.com/company/gemsense
Twitter: @tinycomputers    
About Hi Center
A private incubator and center for entrepreneurship in Haifa, is a subsidiary of the Haifa Economic Company which invests in tech companies. The incubator invests in companies who wish to settle in the city of Haifa and develop their activity in the city, as growth engines for the city's economy. The incubator has new offices located in the lower city and has been a major drive for its growth in the past few years
In addition to the incubator, hiCenter offers entrepreneurs a wide range of activities and services such as co-working space and offices for young companies who enjoy the infrastructure and a fertile hi-tech environment.
The competition organizers
China Association for Science, Jiu San Society, Chinese Academy of Engineering, the Guangdong provincial government and Guangzhou municipal government, the Guangzhou municipal government contractor, the national division of Beijing, Guangzhou and Foshan Division, Shenzhen Division, Division of Chengdu, Nanjing and Hefei Division, Suzhou and Shanghai Division, Division of Wuhan, the Guangxi eight Division, the Shenzhen venture Capital is a division-by-side orange.
Source: Gemsense
Share: