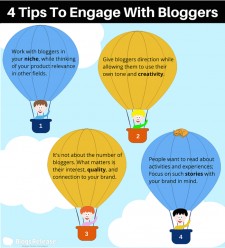 ENGAGE WITH BLOGGERS
New york, USA, June 24, 2016 (Newswire.com) - Marketers are always on the lookout for new ways to elevate their brand/s. Today we wanted to share some advice blogger engagement to lift your brand higher by working with influencers. (Alright, maybe we went a bit overboard with the air balloon puns, but don't get full of hot air about it).
Work with

bloggers

in your niche, while thinking of your product's relevance in other fields.
Give

bloggers

direction while allowing them to use their own tone and creativity.
It's not about the number of

bloggers

. What matters is their interest, quality, and connection to your brand.
People want to read about activities and experiences; focus on such stories with your brand in mind.
Source: BlogsRelease.com
Share: