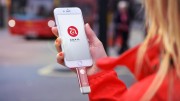 World's Fastest Apple Lightning Flash Drive. Quickly transmit data between iOS, iPhone, iPad, Mac and PC without using internet, cloud system, or iTunes! Main features: the fastest Read/Write Speed, Dual-Interface Lightning / USB 3.0 Support, exFAT support.
Berlin, Germany, September 7, 2015 (Newswire.com) - Adam Elements, the leading smart lifestyle solutions brand, is excited to announce the upcoming launch of the innovative iKlips flash drive in Europe for IFA 2015. This Lightning / USB 3.0 dual-interface flash drive is specially designed for the iPhone and iPad and supports iOS, PC and Mac devices. Simply plug and play to share files, backup photos and play music and videos. Now you can efficiently and quickly transmit data between iOS and other devices without using the internet, cloud storage or iTunes. Moreover, storage capacity can be instantly expanded to up to 256GB.
iKlips is produced using top quality MLC flash memory components that not only provide greater stability and a longer product lifespan, but also enable iKlips to offer the world's fastest flash drive read/write speeds for the iPhone and iPad (Lightning read/write speed: 26/10 MB/s; USB 3.0 read/write speed: 140/70 MB/s). Thanks to the world's most energy-efficient design, using iKlips has absolutely zero effect on the battery life of an iPhone or iPad. Exclusively developed and manufactured by Adam Elements, iKlips uses an ultra-slim and exquisite aluminum alloy exterior. As a high quality Apple MFi certified product, iKlips delivers a refreshingly smart mobile storage experience.
With its latest App update iKlips supports "exFAT", the latest flash media format. exFAT formated drives allow individual files larger than 4GB, facilitating long continuous recording of HD video which can exceed the 4GB limit in less than an hour.
iKlips consists of a dual-interface integrated design with full Apple Lightning and USB 3.0 functionality, allowing users to conveniently share and transfer files between an iPhone, iPad, PC and Mac. Through the free iKlips iOS app, you can instantly store valuable photos and videos from your iPhone and iPad onto the iKlips and transfer them to your home computer. In addition you can directly view photos and documents, and play music, TV series and movies stored on iKlips on any iOS device without having to worry about the device's storage capacity. iPhone and iPad data can be backed up at any time without having to use a computer or iTunes. iKlips files and folders can be directly managed on the device.
iKlips OTG flash drive series was developed by the Adam Elements team and is exclusively manufactured in Taiwan. The iKlips are available in five storage capacities: 16GB, 32GB, 64GB, 128GB and 256GB (MSRP: USD59, USD79, USD99, USD179 and USD399). iKlips is currently the only high-capacity and premium quality flash drive in the market that uses high-speed MLC components.
Share: