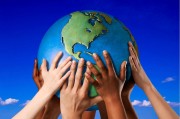 With the growing number of refugees entering Europe, the European welfare states are being put under pressure. Oftentimes refugees are regarded as financial liabilities for the destination countries. However, entrepreneurship has shown successful as a facilitator for social integration and in bridging the gab between different cultures.
Tel Aviv, Israel, March 9, 2016 (Newswire.com) - Israel, a nation of multiculturalism with many different social and cultural influences, has proven successful examples of how entrepreneurship can integrate and connect people with different cultural and religious backgrounds. Europe with its huge intake of refugees will be facing major integration issues the coming years. Helping talented people of different cultures or minorities to a professional career through entrepreneurship is a viable option for solving the European integration issues.
Many startup accelerators and entrepreneurship programs in Israel are trying to tackle this challenge. One of them is NBIC, Nazareth Business Incubator Center focusing on transform and stimulating the Arab-Israeli economy through technology initiatives and startups. Another one is KamaTech focusing on stimulating the ultra orthodox Jewish community that accounts for 12% of Israel's population to integrate them into the vibrant Israeli high-tech and entrepreneurship ecosystem.
These two programs are not only trying to tackle the social challenges that organizations in Israel are facing, they are also reducing the political gaps through an alternative path.
"I believe initiatives like NBIC and KamaTech are very applicable in Europe", says Hila Glick, Director of StarTAU, Tel Aviv University Entrepreneurship Center, and continues, "we are seeing increasing enquiries from our governmental partners in Europe who are seeking knowledge on Israel's success in integrating different cultures into the entrepreneurship ecosystem."
KamaTech alone is expecting to increase Israel's GDP by billions as thousands of ultra orthodox professionals integrate into the technology sectors. Hila Glick believes that the same potential applies in the European countries, "many of the people that are entering Europe these days come with very talented and diversified skillsets, but they need help and mentorship to get started with their ideas in a new cultural setting", she also think, it's important to start early on, "the sooner you start with these initiatives, the sooner people will integrate into the local community and start contributing to society with significant benefits for all parties." People tend to think that this requires huge financial resources, but both KamaTech and NBIC are proven models that even with lean budgets and a collaborative approach by leveraging the knowledge from other key players in the local ecosystem, you can bring immediate success.
As one of its four pillars, StarTAU is working closely with international governments and business partners, exchanging knowledge and hosting delegations, seminars and conferences to connect globally. In April, StarTAU in partnership with IBM is inviting managers within the European startup ecosystems to an innovation seminar where participants will get the opportunity to learn from NBIC, KamaTech and 30 other partners that are making a positive impact on the Israeli startup and innovation ecosystem.
StarTAU, Tel Aviv University Entrepreneurship Center, is a nonprofit organization and a leading actor in the Israeli startup ecosystem. StarTAU has been named one of the 3 best academy business incubators in the World, according to the 2013 UBI Index Report. During the last 8 years, StarTAU has acted as an important intersection point between the academic, business and government sectors, while providing a bridge between the Israeli and global ecosystems.
Share: