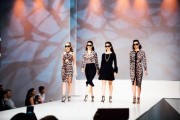 Moda s/s 16 played host to encouraging levels of business on 9, 10 and 11 August, with the number and quality of orders written cementing its status as a key buying event in the trade-show calendar.
Birmingham, UK, August 17, 2015 (Newswire.com) - Brands enjoyed a positive business return at the show's 28th edition, with many also reporting a marked increase in the number of new accounts opened.
Exhibitors from each of Moda's five dedicated shows – Moda Woman, Moda Gent, Moda Lingerie and Swimwear, Moda Accessories and Moda Footwear – praised the event as an order-writing opportunity.
Moda Woman brand Alice Collins was delighted with both the response to its s/s 16 collection, and the quality of buyers in attendance. The label's Louise Collins commented: "The show has been fantastic for us, and we have never opened as many new accounts in areas where we needed stockists.
"We have met buyers who have travelled from Wales, the Channel Islands and Scotland, and have also seen a lot from the South East. It's been a great mix, and they have all been very enthusiastic. In addition to this, we have also seen returning buyers who have had a positive reaction to the brand, and a good sell-through."
First-time Gent exhibitor Gaastra also opened new accounts at Moda, with UK distributor Jason Lynch confirming that the event had granted them access to high-quality retailers.
Lynch said: "Every buyer who came to see the collection loved the product, and we saw the right calibre of buyers across the three days. It was a great UK debut that we will continue to build upon for seasons to come."
Elsewhere, retailers looking to diversify their offer responded well to new ranges from existing suppliers and returning labels.
Moda Woman exhibitor Carol C Collections enjoyed a particularly successful three days, with director Lisa Speet commenting: "It's been an all-time record breaking show for us. Our new addition Smashed Lemon has created a lot of interest, and there was a great response to the pieces that were showcased on the catwalk.
"The launch has brought some of our old retailers back to us, as well as attracting new interest - and that has had a positive effect on the other labels within our portfolio. Overall, we are really happy with the orders we have written."
Mark Querol, marketing manager for Double H Agencies, added: "We are familiar with Moda Gent, having exhibited here with our other labels - but this is the first season that we have brought Eden Park. It has been the right platform from which to showcase the range; we have seen the right sort of buyers and we were already writing orders on Sunday."
Confirming that lingerie retailers were willing to invest in exciting new ranges from proven best-sellers, Curvy Kate's head of sales, Rachel Jenkins, explained: "It's been an amazing show for both Curvy Kate and our new launch, Scantilly.
"The team has been consistently writing orders, to the extent that we were already delighted with the business we had done by close of play Sunday – but we were even happier to see it continue throughout the rest of the exhibition. Scantilly created a lot of interest, and Curvy Kate maintained its position as a popular choice with buyers."
Brands also reported welcome a surge in the number of new accounts opened, with footwear brand Fly London's UK agent, Ashley Cummings, commenting: "We always arrange to meet existing customers, but what determines a good show is the level of new interest we generate.
"This season, we were pleased to have established some good new leads, who showed a positive response to the new collection. Following several international trade exhibitions over the last few weeks, this has turned out to be our best show of the season."
Tempest Designs' director, Lawrence Webster, added: "Moda Accessories has been a good show which has surpassed our expectations. We've consistently written orders and opened new accounts and we are looking forward to coming back next season."
 
Indeed, retailers showed an encouraging willingness to enhance their brand-offers by taking on new suppliers. Buyer Maggie Hamblett, of Mirror Mirror, Rugby, explained: "We have a special occassionwear store, and were looking for accessories and jewellery to compliment our current offer.
"We were particularly keen to take on a new fascinator or hat brand, and are thrilled to have found that and placed an order. They were willing to deal with us as a small independent, and will allow us to buy as and when we want."
Sally Medcalf, buyer at Beach Beauty, Camden, added: "We always do our buying at the show, as it's convenient to see whole collections, and gives us the opportunity to order from someone we haven't used before.
"This season, we have seen two new brands, which we are going to go back to and hopefully place orders with."
Footwear buyers were also keen to find new suppliers, with Andrew Marshall, owner of Strolling 4 Shoes, Cumbria, commenting: "It was a productive show as usual and we got everything that we needed, including a few new labels.
"We picked up Polish brand Maciejka and RIA Menorca, which I think is going to be a huge for summer – it's a good quality product that goes beyond flip flops and traditional sandals. We spent three days at the show catching up with our regular brands such as Rieker and Josef Seibel, and we walked away with the full collection in place for next season and all ready to go."
Many retailers confirmed that Moda s/s 16 was their main buying opportunity of the season – a fact reflected in the promising levels of business at the show.
Kim Dewsnap, director of Temptations, Solihull, said: "We come to Moda every season for three days and do all our buying here. It's easier to order at the show than in our shops, as we don't have time; we come to Moda, really focus on it and get it done."
Nick Cook, portfolio director at show organiser ITE Moda, welcomed the positive mood felt across the halls this season. "During what are still challenging times buyers are looking for product which will set them apart from the high street and give the end consumer a real reason to spend," he says.
"If this means putting more budget into best-selling labels then that's what the buyers will do, and they're not afraid to drop collections that aren't performing to make that possible. But what was particularly exciting about this season's shows was the fact that stores now have the confidence to take on new labels if the product is right, which was borne out by the number of new accounts opened over the three days. From our position as organisers, this indicates that the Moda shows are attracting the right brands and introducing our visitors to interesting new collections that will make them money."

The next edition of Moda takes place on 21, 22 and 23 February, 2016, at the NEC, Birmingham. 
Notes to editors:
Photography by Richard Boyle
Share: