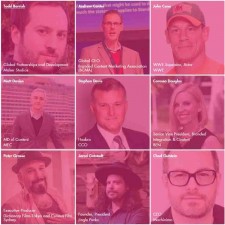 Speakers from across the creative spectrum line-up to put creativity at the core in June
Cannes, France, April 12, 2016 (Newswire.com) - The Cannes Lions International Festival of Creativity has today released the full content programme which will run from 18-25 June, 2016. Talent from all walks of creativity will take to the stages at the Festival, which includes the specialist events Lions Health, Lions Innovation and Lions Entertainment.
In Cannes Lions' most diverse programme to date, multi-Oscar winning director, screenwriter and producer, Oliver Stone, will bring his views on filmmaking, politics and culture to the stage. Illusionist David Copperfield will help explore the tension between authenticity, sincerity, honesty and brand messaging. Actress, Singer and Food Writer, Gwyneth Paltrow, will answer probing questions from BBC HARDtalk's Stephen Sackur, while documentary filmmaker Jennifer Siebel Newsom will talk about the dramatically changing definition of masculinity. CNN host, Anthony Bourdain, will discuss what it takes to create stories across the spectrum of human emotion, while co-president of VICELAND, Spike Jonze, will talk about creating content that matters to young audiences.
"When we put together our content programme we look to give people inspirational learning that you can't find anywhere else. Importantly, we keep creativity at the heart, designing it to cross all touchpoints of creativity while offering insights into some of the most creative minds in the world. With specialist events in Health, Innovation and Entertainment, we can offer a programme of speakers that brings the ever-growing ecosystem of creative communications together, allowing delegates to pick and choose content to create their own tailored programme," said Philip Thomas, CEO, Lions Festivals.
At Lions Entertainment, which launches this year and is dedicated to unskippable creativity, Martin Campbell, best known for directing Bond movies Golden Eye and Casino Royale, will talk about his experience of telling stories, working with big entertainment franchises, and integrating brands into his work. Actor, producer and businessman, Channing Tatum will join the line-up, while Mindy Kaling will bring insight and inspiration from the acting world. Professional wrestling company, WWE, will be represented by WWE star and actorJohn Cena, along with WWE chief strategy officer and TV personality, Stephanie McMahon. Names from the music industry, including artists, labels and studios will also be represented across Lions Entertainment.
Lions Health, which focuses on life-changing creativity, will bring creativity in science to the fore with Cory Doctorow, Science fiction author, blogger and technology activist, and Dr. Gokul Krishnan, Ph.D. Learning Scientist, engineer and the founder of 'Maker Therapy.' Revered for her courage in sharing her candid battle with myelodysplastic syndrome, Robin Roberts, Co-anchor, Good Morning America, ABC, is an Emmy-winning news anchor who will be on stage to share her tips on building trust with your audience. From the world of film, director of 10 Cloverfield Lane, Dan Trachtenberg, has just been confirmed. While from the Pharma industry, Atilla Cansun, Chief Marketing Officer, Consumer Health, Merck, will join the line-up.
With a focus on Data x Tech x Ideas, Lions Innovation will spotlight upcoming start-ups with Rodney Williams, CEO & Co-Founder, LISNR and André Ferraz, CEO, In Loco Media, as well as Tech heroes like Kamakshi Sivaramakrishnan, Founder & CEO, Drawbridge. Other talent will include Martin Ford, author of The Rise of the Robots, who will give his radical prediction of an automated world, as well as cyborg anthropologist, Amber Case, and Matthew Luhn, Story Supervisor & Story Instructor at Pixar Animation Studios.
The full programme is now available at www.canneslions.com. Details of how to attend the Festival and packages available can also be found on the website.
Source: Cannes Lions
Share: