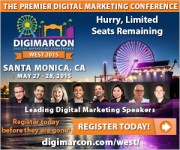 The DIGIMARCON WEST 2015 Digital Marketing Conference will take place at the luxurious Loews Santa Monica Beach Hotel in Santa Monica, California on May 27 and 28.
SANTA MONICA, CA, April 14, 2015 (Newswire.com) - The digital marketing industry's premier conference is designed to help attendees increase their customers by introducing them to new strategies for traffic building, increasing customer service and applying better digital tools to create more beneficial business outcomes.
Search Experiences CEO and Conference Host Aaron Polmeer says he is very excited to offer attendees a valuable experience.
"Business owners and entrepreneurs must be aware of the latest strategies, effective tools and best techniques for making their business more profitable," he says.
"The conference will show attendees how to thrive as a marketer in a world where everything is digital. It's going to be an exciting event."
The Digital Marketing Conference will be showcasing bold and brilliant speakers such as Rand Fishkin (Founder of Moz), Kevin Jonas (Celebrity & Social Influencer), Loni Stark (Sr Director Strategy & Product Marketing, Adobe), Bryan Kramer (CEO & Founder, PureMatter), Mike Tunnicliffe (EVP Business Development & Partnerships, Universal Music), Mark Schaefer (Executive Director, Schaefer Marketing Solutions), Aaron Polmeer (CEO, Search Experiences), Forest Cassidy (CEO, LeadFerret) and much more!
About DIGIMARCON WEST 2015
DIGIMARCON WEST 2015 (http://digimarcon.com/west/) showcases the most audacious and thought provoking speakers in the digital marketing industry, providing attendees with emerging strategies, the latest innovative technologies, best practices, and insights from successful digital marketing campaigns. Attendees will learn how to build traffic, create brand awareness, improve customer service and develop better use of digital tools internally to drive more productive business outcomes. Immerse yourself in topics such as Content Strategy, Web Experience Management, Usability/Design, Mobile Marketing, Customer Engagement, Social Media, Targeting & Optimization, Branded Search, Marketing Automation, Analytics & Data and much, much more!
Share: