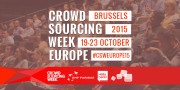 Europe's major crowd economy conference explores the best practices in crowdsourcing and the collaborative economy that are fundamentally changing society, mindsets and possibilities across industries.
Brussels, Belgium, October 8, 2015 (Newswire.com) - ​The crowd is transforming the way the world does business. Crowdsourcing Week Europe 2015 (October 19-23 in Brussels) marks the 2nd edition of the leading European conference on the crowdsourcing and collaborative business practices that are fundamentally changing society, mindsets, & possibilities across all industries.

Taking place Oct 19-23 in Brussels, CSW Europe follows a successful global conference in Singapore that saw forward-thinkers from 31 countries converge to learn, network, and engage. CSW Europe's program will provide an equally in-depth look at the impact of the crowd economy, crowdfunding, and crowd technologies—and what it means for you. Learn from 50+ crowdsourcing experts at the frontier, discover what this shift means for your industry, and learn how to leverage the crowd for your organization.

Supported by BNP Paribas Fortis and HelloBank, the pan-European conference includes:
• 60+ inspiring, actionable sessions across enterprise, platforms, academia, and government
• Dedicated tracks on the crowd-driven future of business, society and finance
• Daily Open Innovation Sessions & Interactive Workshops
• Live Smart Cities Crowdfunding Competition presented by MyMicroInvest
• Built-in networking sessions day & night
• A day-long European Forum for Entrepreneurial Finance (Oct 23)

Tuesday, Oct 20 | Accelerate Europe: Crowd Finance & Collaborative Innovation
Learn: Practical methods of crowd innovation with applications to a wide range of verticals and get a closer look at new models of raising capital, lending, and investments.
Highlights:
● Opening Keynote // Minister Annemie Turtelboom Vice minister-president of the Flemish Government and Flemish Minister of Finances, Budget and Energy
● Europe in the New Economy // Domenico ROSSETTI di VALDALBERO, Principal Administrator, EU
● Multinationals Entering the Crowdfunding Ecosystem //Arnaud Burgot, Ulule
​
● Will Crowds 3.0 be Robots? // Dr. Bram Vanderborght, Vrijie Universiteit Brussels
● Jumpstarting Healthcare Innovation // Pedro Oliveira, Patient Innovation
Wednesday, Oct 21 | Evolve Europe: Smart Cities & Mobility
Learn: Principles and applications of crowd collaboration to generate robust local economies and smart cities through open innovation, online communities, the sharing economy and mobility.
Highlights:
● Ministers to comment on the Digital Economy // Deputy Prime Minister Alexander De Croo; Pascal Smet, Minister of Mobility; and Els Ampe, Member of Parliament take the stage.
● Crowdsourcing the Future City // Julian Petrin, Founder, Nexthamburg
​
● Future of Mobility Panel Discussion // Shana Smeets, BlaBlaCar; Alex Gaschard, CarAmigo; Alex Torres, Moovit, Roger Kesteloot, Delijn; Moderated by Theo Priestley, Forbes
● LIVE Crowdfunding in partnership with MyMicroInvest
Thursday, Oct 22 | Sustainable Europe: Participatory Government & Energy Transition
Learn: The Ins and outs of crowd-based infrastructure that are helping governments, civic and social organisations tap better ideas for development, lower resource dependence and even secure a renewable energy future.
Highlights:
● Innovation as a Source of Growth? // Peter De Keyzer, BNP Paribas Fortis
​
● Crowdsourcing Social Good // Arnaud Mourot, Ashoka
​
● Smart House, Dumb Home: The Problem with the Internet of Things // Sarah T. Gold, Designer
● The Crowd as the Engine of Growth // Haydn Shaughnessy, The Disruption House

View full agenda and list of speakers.
Share: