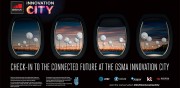 Popular Experiential Zone Features Interactive Demonstrations Showcasing the Impact of Mobile Technology; Includes Exhibits from AT&T, Global M2M Association, Jasper, KT Corporation and Sierra Wireless
London, United Kingdom , February 3, 2016 (Newswire.com) - The GSMA Innovation City will return once more to Mobile World Congress, inviting visitors to explore an immersive city environment and experience first-hand how mobile technology is positively impacting the world around us. The City is one of the most popular exhibition spaces at the show, welcoming almost 28,000 visitors, or nearly one-third of all Mobile World Congress attendees, in 2015. It will host numerous cutting-edge interactive demonstrations that span a diverse range of sectors and cater to a wide range of interests including industry, transport, health, home and retail, amongst many others.
"The Innovation City continues to be one the biggest draws at Mobile World Congress and this year, we have an exceptional series of experiences that reflect the incredible impact mobile has on virtually every aspect of our lives," said Michael O'Hara, Chief Marketing Officer, GSMA. "Whether it's remotely monitoring our homes, pets or even livestock, keeping track of our fitness levels or providing real-time information to our cars, intelligent mobile technology underpins it all. We look forward to welcoming visitors to the City to experience the present and future in this exciting space."
This year visitors are invited to check in and board a lifelike airliner positioned at the heart of the City and experience one of four unique virtual reality interactive journeys using smart phones and Oculus Rift headsets. The City also includes an airport, a café, a farm, a vineyard and shops, along with a number of connected cars and many other experiences. The Innovation City exhibits will be presented by AT&T, the Global M2M Association, Jasper, KT Corporation and Sierra Wireless and will demonstrate the very latest in mobile connected products and services. The GSMA will also showcase its key programmes and initiatives including Connected Living, Digital Commerce, Network 2020 and Personal Data.
Showcasing a Range of New Experiences
GSMA partner experiences on display in the Innovation City include:
AT&T
AT&T will showcase its capabilities as a global integrated provider helping millions around the world connect with leading entertainment, mobile, high-speed Internet and Internet of Things (IoT) solutions. Inside the GSMA Innovation City, visitors will be guided around AT&T solutions that connect consumers and businesses, including AT&T IoT solutions such as connected car, smart cities and real-life industrial IoT use cases. People will be able to experience AT&T's consumer offerings first-hand including Digital Life's smart home security and automation platform, voice and data plans, other connected devices like bikes and more.
Global M2M Association (GMA)
The GMA will showcase a live demonstration of its Multi-Domestic Service, an innovative global M2M connectivity management solution that significantly simplifies the global deployment, management and operations of M2M and

IoT

services for large enterprises.
Jointly implemented by the GMA operators, the Multi-Domestic Service is compliant with GSMA specifications and can therefore provide customers with scalable, reliable and secure M2M connectivity.
JASPER
Jasper will be demonstrating how leading enterprises are using its global IoT service platform to drive real-time business transformation, add value for customers and secure their share of the multi-billion dollar IoT market today. Visitors will experience:
Why the leading automotive

OEMs

worldwide choose Jasper to accelerate the introduction of new connected car services, implement advanced business models, automate operations and scale globally.
How the real-time visibility and control of the Jasper

IoT

service platform makes connectivity and management of reliable, global POS networks possible, while enabling retailers to profit from innovative new services.
What vending machine operators can do with the Jasper

IoT

service platform to reduce their carbon footprint, eliminate waste and increase profits by 30 to 40 per cent.
How Jasper is helping put hundreds of thousands of connected

eBikes

on the road in China and throughout the world.
KT CORPORATION
KT will showcase its capabilities as a leader in 5G at the Innovation City and demonstrate the world's first 5G technology including:
A 5G base station that covers LTE backpacks, drones, satellites and more.
5G technology such as

GiGA

LTE that uses existing copper wire.
Fiber-to-the-Antenna (FTTA) that makes it possible for base stations to communicate approximately ten times the distance of current solutions.
SIERRA WIRELESS
Sierra Wireless, with partners Axis, Parkeon and Valeo, will showcase its latest innovative solutions in scenarios such as:
How connected parking meters can become multi-service kiosks and enable services such as

couponing

, city news updates and payment of parking fines.
How a 4G-enabled mobile video surveillance station can be deployed very quickly in places without a dedicated network infrastructure, to cover events such as demonstrations, riots, outdoor concerts or sporting events.
How users can interact with their cars remotely via their

smartphone

or tablet to perform actions such as locking or unlocking and activation and deactivation of wipers or heating, as well as real-time car location, live video streaming and more.
GSMA INDUSTRY PROGRAMMES
GSMA programme exhibits will include:
Check In on board The Innovation City Airliner: The GSMA Innovation City invites guests to board an airliner and experience the connected future by taking one of four virtual reality journeys via

Oculus

Rift headsets.
Connected Car: Be one of the first to experience a brand new Jaguar F Pace and see the latest innovations in connected car technology.
Virtual Shopping: Swipe and select virtual 3D shopping items from a large touchscreen and add them to your basket to see how groceries can be ordered and delivered to your home.
Connected Agriculture: Experience how farmers monitor wind, sun and moisture levels to keep track of their crops, as well as keep tabs on the location and health of livestock.
Mobile

IoT

Vineyard: See how mobile technology is helping to keep grape vines and wine stocks at optimum levels.
Mobile Connect: Experience how the GSMA Mobile Connect digital authentication service is changing the face of banking and

eGovernment

.
Connected Transport: Learn how mobile connectivity is helping to track bikes and keep cyclists safe.
Low Power Wide Area: See how Low Power Wide Area networks are connecting anything from water meters to smart bikes to pet trackers.
Motion Capture: Experience how a body-mounted, remote-control, motion-detecting camera uses

WebRTC

and Rich Communications Services (RCS).
Touch and Try: Test and try out wearables, connected luggage, sports equipment and much more.
GSMA Innovation City Location
The GSMA Innovation City will again be located at Stands 3A11 and 3A31 in Hall 3, Fira Gran Via and will be open during Mobile World Congress exhibition hours from Monday, 22 February through Thursday, 25 February. Please note that the City will close at 16:00 on Tuesday, 23 February for a private reception.
Get Involved at Mobile World Congress 2016
For more information on the 2016 Mobile World Congress including how to attend, exhibit or sponsor, visit www.mobileworldcongress.com. Follow developments and updates on Mobile World Congress on Twitter @GSMA using #MWC16, on our LinkedIn company pagehttp://gsma.at/GSMALinkedIn, or on Facebook at www.facebook.com/gsma. For more information on the GSMA Innovation City, follow #gsmainnovationcity.
Share: