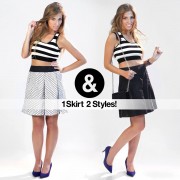 Chamelyo: the first item of clothing which truly allows you to make a spontaneous and effortless change of look, without having to undress.
New York, USA, November 29, 2015 (Newswire.com) - Meet chamelyo: The world's first Color Changing Skirt!
Chamelyo's goal is to make the dream of a color-changing environment a reality. 
 
Chamelyo invented and designed original, intuitive and playful items which allow  to transform the look instantly and without having to undress. Each skirt encompasses two matching yet complementary styles, changeable at any moment as the mood grabs. The change is achieved as a result of the products unique structure. 
How it works?
The color changing skirt functions without a single button or stitch of Velcro. The secret lies in the unique patented belt structure. It's recommended performing the change while twirling so as to ensure a smooth and complete color transition.
The skirt is the first in a long line of innovative new color changing products which will soon become available.
All "technology" is made solely of textiles, woven together in a unique, origami inspired technique - no zippers, no buttons, no Velcro.
Chamelyo is now on Kickstarter.
Share: