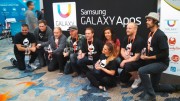 The Indie Prize USA 2015 winners.
San Francisco, CA , August 17, 2015 (Newswire.com) - Casual Connect USA was held on August 11th-13th in San Francisco. Dozens of leading speakers from the world of mobile gaming hosted inspiring sessions and revealed a number of interesting themes attendees should anticipate.
Casual Connect Indie Prize winners for the USA 2015 show have been revealed at the awards ceremony in the evening of August 12th.
Here's who the judges picked out of 156 games of the contest:
Best Game Audio
Skara, The Blade Remains
8-bit Studio
Most Innovative Game
Dissonance     
Team Dissonance       
Best Game Design    
The Masterplan
Shark Punch               
Best Game Art          
Hue    
Fiddlesticks    
Most Promising Game in Development      
Road Redemption       
Dark Seas Interactive 
Best Game Narrative           
The Silent Age
House on Fire 
Best Multiplayer Game        
Bierzerkers     
Shield Break Studios 
The Best Kids and Family Game    
Hue    
Fiddlesticks    
Best In Show: Critic's Choice         
Hue    
Fiddlesticks    
Best In Show: Audience Choice      
Above the Clouds       
S.C. Creartscape Teh S.R.L.  
The winners received prizes from Amazon, Photon, Facebook, Plantronics, Unity, Dau-Up, BlogsRelease, Intel, PlayPhone, Samsung, Pocket Full of Apps, Gamblit and Cyber Agent.
Meanwhile, applications for Casual Connect Tel Aviv are already open:
More info about Indie Prize: http://usa.indieprize.org
Find out more about the upcoming Casual Connect Tel Aviv on October 19 — 21: http://telaviv.casualconnect.org
Share: