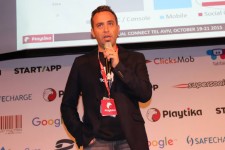 New York, USA, October 20, 2016 (Newswire.com) - With major players in the region, Tel Aviv is a perfect hub for those interested in social casino gaming and the emergence of skill-based gaming in casinos around the world. Casual Connect understands the importance of these areas to developers and will be unraveling them at their upcoming show in November.
VIEW FROM THE TOP
Elad Kushnir, SVP Business Development Playtika, will open the social casino track by giving an overview of the current state of the social casino market. Later on, Playtika's General Manager Caesars Casino Boaz Levin will dive into how to run a real-time, always-on social casino business.
Playtika's Elad Kushnir speaks during Casual Connect Tel Aviv 2015.
Playtika executives will also be teaming up with other experts to offer deep insights. Playtika Director of Business Development Adi Hanin will discuss the hottest and latest social casino trends with Huuuge Games CEO Anton Gauffin while Playtika Marketing Director Jeet Niyogi will take part in a DAU-UP panel with representatives from Google and Murka on early adoption and marketing innovations.
ACQUISITIONS & ASIA
With Playtika being recently acquired by Chinese firm Giant Interactive and other Asian acquisition deals taking place across the games industry, there is no better time to discuss mergers, acquisitions and Asia.
Adam Krejcik speaks during Casual Connect Tel Aviv 2015.
Eilers & Krejcik Gaming's Adam Krejcik will discuss transformative M&A deals in the social casino sector. Later, Adam will join GSN Games' Raf Keustermans and Tangelo Games' Vicenc Marti to discuss the process of acquisition – from what companies are looking for in a potential acquisition to what things will be like once the dust settles.
On the Asian front, Playstudios' John B. Lin will discuss what social casino aspects translate well from Western to Eastern markets, what needs to be adapted, and what needs to be reworked from the ground up. Afterward, Old Man Productions Consultant Guy Hasson will dive into social slots and provide detailed information on how to transform western slots into a product fit for Asian consumption.
DESIGN IN SOCIAL SLOTS, POKER
Diving deeper into social slots with another lecture, Guy will focus on how to use your app's economy to keep players happy. Rocket Games' Niko Vuori will dig into what social slots are and what opportunities might exist by targeting niches such as the classic slots player.
Super Lucky Casino's Nick Talarico will explore how social slots developers can mimic casino environments when growing their apps and Murka's Anton Krasnyy will detail how to innovate on poker to create a game catered to Millennials. Reel Ads Founder Mark Beck will discuss how to design, build and scale apps – as well as take a look at monetization, user acquisition and user retention.
VIP & UA
Exploring user acquisition further, Product Madness' Patrick Witham will cover how to maintain a profitable UA strategy. Later, in a panel, executives from FlowPlay and Wizits will discuss how to use strategies for niche products to overcome challenges in the social casino market.
In a separate panel, experts from Zynga, PlayStudios, Super Lucky Casino, AppThis and Scopely will discuss how to take care of and retain VIP players in the Internet Age and on mobile devices while building loyalty to your brand.
CASINOS & DEVS
Casinos are beginning to put skill-based games, VR attractions and esports events inside their walls. At the same time, more and more operators are beginning to eye mobile apps and social casino game development. It's the perfect time for developers to make the crossover from the games industry to the casino industry, but that is easier said than done.
Experts from Scientific Games, GAN, Ruby Seven Studios, San Manuel Digital, Imperus and iGaming Capital will discuss where social casino and brick-and-mortar is converging in a jam-packed panel. In a standalone lecture, Gamblit Gaming's Darion Lowenstein will discuss what it takes to gamblify a game and how developers can get their games onto casino floors.
MAJOR PLAYERS
All in all, experts from 10 of the top 15 social casino companies will share their insights with Casual Connect attendees during the conference November 1-3 in Tel Aviv – in addition to innovative independent developers who are carving out their own spaces in the casino and social gaming industries.
Attendees mingle during an acrobatic performance at the Over The Top Party hosted by Playtika at Casual Connect Tel Aviv 2015.
In addition to the unparalleled educational content Casual Connect will be providing, attendees will also get the opportunity to take part in great networking opportunities – from multiple parties, a tour of Jerusalem, and the event's online Pitch & Match system.
For those involved in real money or social casino gaming – or looking to break into the casino industry – it is an event not to be missed. Learn more about Casual Connect Tel Aviv at telaviv.casualconnect.org.
Source: Casual Connect
Share: