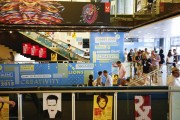 Following Saturday's conclusion of a second, successful Lions Health, the doors of the Palais des Festivals have opened for the 62nd Cannes Lions Festival of Creativity.
Cannes, France, June 23, 2015 (Newswire.com) - Tonight, the red carpet was laid up the steps of the Grand Audi for the first Awards Ceremony of the week where winners of the Promo & Activation, Direct, Mobile and Press Lions were announced.
From a total of 3,196 entries in Promo & Activation this year, 117 Lions were awarded. The Grand Prix was claimed by Grey London for Volvo UK, "Lifepaint" which, said Jury President Matt Eastwood, Worldwide Chief Creative Officer of J. Walter Thompson, had not only raised the bar creatively, but also made a positive contribution to humanity. "It reinforces a life-long commitment to a strategy of safety and then elegantly turns that to a guiding purpose not just for the cars, but for all of society. It's a simple, easy to apply solution that will genuinely save lives."
The Direct Lions saw Volvo pick up a second Grand Prix via Grey New York for "Interception". In a section with 2,813 entries, 83 Lions were presented. "Smart, strategic, creative and real-time, Volvo zagged and created a new conversation which hijacked The Superbowl. It pushed and rethought what you can do in direct," said Jury President, Judy John, CEO and Chief Creative Officer, Leo Burnett Canada. "Interception is a deep example of what's going on. It's an exciting time in the category and the business."
In Mobile, 57 Lions were narrowed-down from 1,246 entries, with Google Mountain View taking home the Grand Prix for Google "Cardboard" – an idea that almost rendered the technology invisible in order to allow the experience to seem natural. Jury President Joanna Monteiro, VP Creative Director, FCB Brazil said that it had made virtual reality far more accessible. "The jury believed that this is a game-changer since it democratizes VR. Cardboard costs about $20 and will allow brands to engage many more consumers, offering them a different level of experience."
Finally, in Press there were 79 Lions were awarded from 4,470 entries. "Dog", "Baby", Squirrel" and "Moths", a campaign for the City of Buenos Aires by The Community/La Communidad Miami, triumphed.
Jury President Pablo del Campo, Worldwide Creative Director, Saatchi & Saatchi, Argentina said that the jury had seen many entries which had "brought light" to the category, but the Grand Prix stood out for its freshness, originality and, ultimately, creative bravery. "There were other great ideas that we loved, but we thought that this one was the most challenging and farthest away from the comfort zone."
Not only has the Festival experienced record entry numbers, but with around 13,500 pass-holders descending on Cannes, delegate numbers are also at an all-time high. Jam-packed auditoriums were experienced on days 1 and 2 of the content programme as Tinder Founder and President, Sean Rad revealed how to swipe right for success; the team behind AMC's The Walking Dead provided insights into how to survive a zombie attack (and harness cultural trends for brand growth); Dazed's Jefferson Hack and actress Samantha Morton talked about female creativity revolutionising film, and in the 9th Annual Grey Music Seminar, Grey Group's CCO, Tor Myhren had a "conversation with the antichrist" when he appeared onstage with Marilyn Manson.
Share: