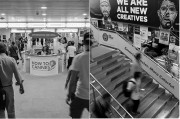 Cannes Lions Introducing Their Most Diverse Line-up Ever.
Cannes, France, June 16, 2015 (Newswire.com) - They say travel broadens the mind, and it's certainly a good thing to experience people of different cultures and backgrounds. They can inform and enhance the attendees creative skills and Cannes Lions is a big, global melting pot of creativity where speakers are flying in from more than 30 countries. With stories from Ireland to Israel and Sweden to Singapore, this is the chance to hear speakers from every continent (and one speaker who has worked on every continent).
There's nowhere else on the planet where attendees can hear from the finest creative minds in Latin America one minute, and discover the secrets of Scandinavian collaboration the next. Creativity takes on different forms and flavours as traveling round the globe, and taste them all in this year's programme.
The Asia Pacific region has always had a strong presence at Cannes Lions, and this year is no exception. While Festival favourites Dentsu, Cheil and Hakuhodo make welcome returns, this is also the year attendees can hear from major regional players including Tencent and exciting independent agencies BlueCurrent (Japan) or Innored (South Korea).
If one always dreamt of the doing the European Grand Tour, this is his chance to take in creative stories from Belgium, France, Switzerland, Luxembourg, Germany and Poland. Never realised what can be learnt from 1950s homo-erotica? The Finns are ready to set the attendees straight. The guys at Resn are flying 19,000 kilometres from New Zealand to talk about how everyone can be a global player from the middle of nowhere, and to prepare to learn why everything that is known about Arab culture is wrong in an enlightening session from Flip Media.
In numbers, more than 500 speakers coming from 30 countries across six continents, to take part in more than 180 sessions. It's going to be quite a trip.
This will be a perfect chance to try something new, to broaden the creative horizons and go back to job with a fresh perspective. In short, the world is coming to Cannes Lions.
Share: