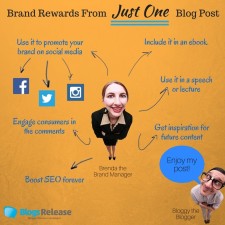 BlogsRelease promotes your brand and keeps bloggers discussion high.
New York, USA, August 15, 2016 (Newswire.com) - So you've heard all about blogger outreach and review campaigns and have launched your own. Influential blogger wrote great posts about your product and people are discussing it in the comments and on social media. Great! But you may be stumped on what to do next. Check out our infographic on what you can do with just one blog post and get inspired.
Use it to promote your brand on social media platforms like

Facebook

, Twitter, and

Instagram

.
Include choice quotes in an

ebook

.
Use it in a speech or lecture.
Get inspiration for future content – link back to it in your own posts.
Boost SEO forever – unlike

facebook

updates, for example, blog posts will stay on the net forever to gather more views.
Engage consumers in the comments – this is a prime opportunity to communicate with your target audience.
Source: BlogsRelease.com
Share: