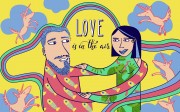 Beautiful Calendar adds new features: integrate events and create beautiful greeting cards.
Tel Aviv, Israel, January 6, 2016 (Newswire.com) - Once upon a time, everyone had pretty wall calendars to help keep their homes and themselves organized. Beautiful Calendar (BC) has taken a modern day approach to organization and migrated that pretty wall calendar online. With a click of a button, users can sync their Facebook events as well as Google Calendar.
BC is now excited to announce the release of V 1.2, which includes new features such as:
· Ability to set events to a customized hourly time frame
· Events can be explicitly defined as "all day" event
· Add a location to your event
· Facebook events are now integrated
· Greeting cards - on a special, global events, easily share a greeting card with just a click of a button.
The link from the calendar event opens a selection of greeting cards that can be customized and sent out to the beloved ones.
Users can also choose their favorite from a number of themes, including sports, cats, dogs, artists, flowers, and more. Forgetting a meeting, event, or birthday will be a thing of the past. No more out of sight, out of mind! BC is easy to use - by simply adding the extension to their favorite browser, users will see their calendar on the search homepage.
Add the extension to the browser with following link: http://beautifulcalendar.net/#/ ​
About Beautiful Calendar:
BC was started by a group of people in Tel Aviv who wanted to keep organized in style. The group has worked in the technology and Internet industry for over 2 decades and has a large portfolio of successful apps and browser extensions. BC contacted the best artists and designers and asked them: What does a special day look like? As a result, BC has dozens of heartwarming themes to choose from.
Share: