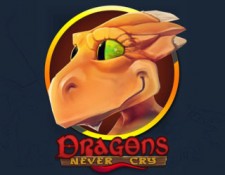 New York, USA, November 1, 2016 (Newswire.com) - ​​The international Indie Prize showcase for independent developers will take place on Nov 1-3, 2016 in Tel Aviv. Sixty games from 21 countries were provided with Indie Prize scholarship by Casual Connect and will be showcased at Habima Square during 3 days from 9 AM to 5 PM.
We are happy to introduce to you games from Belarus, Latvia and Spain that were selected by Indie Prize judges to be showcased at the international Indie Prize showcase.
Game: Dragons Never Cry
Developer: FireVector
Platform: Desktop Win
Website: firevector.com
Country: Belarus
Dragons Never Cry is a casual action-adventure telling story about a brave little dragon treasure-hunter.
The main character is a cute little dragon. He loves treasures (like every dragon does) so he spends a lot of time wondering around forest looking for pretty glimmering things.
His companion, a mysterious flying panda, helps the dragon in his adventures. Their dialogues also serve as explanation for the player on what's going on in the game. Gameplay is mostly exploration, treasure hunting and puzzle solving, with a little bit of combat. Dragon and Panda progress forward together, looking for treasures, fighting off monsters and gradually uncovering what's happened to the forest and where all those monsters came from.
Visually, the game tries to be a modern version of Playstation2 era classics like Crash Bandicoot and Spyro the Dragon.
Two games from the Belarusian developer 4 I Lab will be showcased at Indie Prize in Tel Aviv: Time of Dragons and Ahros: One Warrior Chronicle.
Game: Time of Dragons
Developer: 4 I Lab
Platform: Desktop Win, Desktop Mac
Website: timeofdragons.net
Country: Belarus
Time of Dragons was awarded as best multiplayer game and nominated for best sound and best in show on Casual Connect Tel-Aviv in 2015. Time of Dragons was also nominated for best multiplayer game and best unity game on DevGAMM conference.
Time of Dragons is an MMO shooter where you ride dragons armed with missiles and lasers! The plot of the game unfolds in an imaginary universe, where two highly advanced races, Neils and Atlans, fight against each other. Their battle units are gigantic flying creatures controlled by adopiants, their riders.
The player can choose between sixteen different dragons with unique abilities. It allows you to balance attack, defense or support, depending on single or command game type. Currently, there are five available game modes: Deathmatch, Team Deathmatch, Dragon Soul (command), Soul Collector (command), Control Points.
430,000 – The number of organic installs
163,000 – peak MAU
342 – peak online
71% of positive reviews out of 1335
Game: Ahros: One Warrior Chronicle
Developer: 4 I Lab
Platform: VR desktop/ console
Website: timeofdragons.net
Country: Belarus
Ahros: One Warrior Chronicle an adventure VR-game that tells about a fate of a warrior, which is to restore peace in a world destroyed by global war. The story is told through a series of tasks that character performs with the help of: dragons, stationary and mobile turrets and various mechanisms used by the character himself.
Ahros: One Warrior Chronicle is quite an ambitious project. It will include different kinds of VR-experiences. Players will be able to control their character, fly dragons and gliders, control mechs, drive cars, sailboats, shoot from big guns and shoot from some very big guns. To set these modes right, so they would bring maximum enjoyment, developers need to do a lot of work. The developers want to let players decide which features they like and which they don't.
The game that will represent Latvia at the international Indie Prize showcase in Tel Aviv took 2nd place in "Best Game of GameDev Days 2016" contest in Tallin, Estonia. Dungeons of Rezrog was also Greenlit by the community on Steam for 19 days!
Game: Dungeons of Rezrog
Developer: Soaphog Ltd.
Platform: Desktop Win
Website: http://soaphog.com/
Country: Latvia
Dungeons of Rezrog is a roguelike dungeon crawler with tabletop game aesthetics set in the fantasy world.
Spain will be represented by Super Barista, the game that was featured in Best New Games in 119 countries on release date (143 times on the iTunes home page) and ranked #12 Strategy Games (US). All time downloads are a little under 40k, 103 reviews total with 4/5 average rating (67 reviews with 5 stars).
Game: Super Barista
Developer: Appnormals Team
Platform: iOS
Website: www.appnormals.com
Country: Spain
Super Barista is a crazy game about serving coffee with drones in outer space. It's a twist on tower defense genre combined with time management, so much more frantic and active. The game features 5 different worlds, each with its own races and clients, and +50 unique levels. It is also a tribute to pixel art, since many artists from the entire world have been part of it, making collectable cards.
You can find the full list of Indie Prize games at http://indieprize.org/
Join our Indie Prize Facebook community to stay updated about Indie Prize https://www.facebook.com/groups/870174783048528
A special thanks for the Indie Prize platinum sponsor Unity!
See you soon at Casual Connect in Tel Aviv 2016!
Source: Casual Connect
Share: