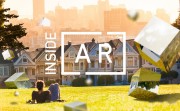 For the very first time, InsideAR, the premier Augmented Reality conference is coming to San Francisco on May 20-21.
San Fransisco, CA, April 20, 2015 (Newswire.com) - InsideAR San Francisco: Where Pixels Meet Reality
For the very first time, InsideAR, the premier Augmented Reality conference for industry leaders, tech companies and brands, is coming to San Francisco on May 20-21. The event is curated by Metaio, the worldwide leader for Augmented Reality software and solutions. For two days, companies including Google, Boeing, Movidius, NGRAIN, Epson, Huawei, Frog Design, Unity, zSpace, and many others will discuss and present the future of Augmented Reality and Computer Vision.
The main theme of the conference, "Where Pixels Meet Reality", reflects the idea of merging the virtual world with our reality. The stage is set to host visionaries driving Augmented Reality's future to explore new elements of the Augmented Reality frontier, filled with untapped resources and brimming with potential. Google's Johnny Lee, project lead of Project Tango, is signed on to showcase his expertise as a core algorithms contributor for motion sensing devices, but with an Augmented Reality twist. Mark Freudenberg, executive technology director of Frog Design, will discuss why Augmented Reality needs to move beyond entertainment and into industries like healthcare, education, automotive, and retail. Leigh Newman, an award-winning design director and creative strategist at ZSPACE Innovation, will showcase their collaboration with Ferrari to develop their first point-of-sale Augmented Reality application.
Daniel Newman, CEO of Broadsuite Inc. and 3x Amazon bestselling author, will deliver an inspirational talk. Seamless Augmented Reality is the only way to get the nod of approval from technology gatekeepers who have yet to see Augmented Reality as a viable solution; this topic will delve into areas that include the delivery of Augmented Reality content, providing longer lasting battery-life solutions in Augmented Reality devices, and breaking through barriers to provide indoor navigation in difficult environments. InsideAR attendees will be the first to get a glimpse of the next line of tomorrow's wearables: Epson, ODG and Zeiss, for example, will present their latest Augmented Reality and VR devices in the large expo area. InsideAR will also tie in the future of Metaio's Thermal Touch technology and how far we've come along in seamless virtual graphic renderings. Moreover, Metaio marketing projects cover 40% of the overall Augmented Reality market share and it will present its latest successful and innovative campaigns at InsideAR (including virtual try-on, product recognition and indoor navigation in retail stores). There will also be several workshops on both days where developers will have the chance to explore ways to push the limits in the Augmented Reality space.
The conference takes place in the heart of San Francisco at The Village on May 20-21. That's three floors sprawling with 11,000 sq. ft. of space reserved for over 30 live demos, several exhibitors, a busy main stage with ongoing presentations, and ample space for networking with forward thinkers coming from a wide variety of backgrounds. For further information and to register for your tickets, visit InsideAR's website: http://www.insidear2015.com/san-francisco.​
About Metaio
Metaio is the worldwide leader in Augmented Reality software, research and technology. With over 12 years of experience in Augmented Reality and Computer Vision, Metaio serves over 140,000 developers with over 50,000 published apps. In total, Metaio's Augmented Reality software reaches over 250 Million consumers around the world. Founded in 2003, Metaio began by offering Augmented Reality to the industrial and automotive sectors for product design and factory planning. 12 years later, the company offers the most versatile and robust mobile development platform while continuing to create customized Augmented Reality solutions to support brands all over the world.
Share: