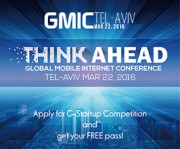 Global Mobile Internet Conference (GMIC) is coming to Tel-Aviv with G-Startup competition in March, 2016.
Tel Aviv, Israel, January 19, 2016 (Newswire.com) - After Beijing, Tokyo, Jakarta, Bangalore, San Francisco, Sao Paulo and Taipei, one of the world's most influential conference series, Global Mobile Internet Conference (GMIC) is coming to Tel-Aviv!. GMIC Beijing 2015 saw more than 30,000 people and 408 exhibitors participating. GMIC is where mobile Internet influencers gather to learn about the latest innovations and connect with industry thought leaders. GMIC is organized each year by GWC, which enables technology innovation that positively impacts mankind by building connections and trust among mobile industry leaders and innovators globally. The GWC Membership an invitation-only, private network for innovators and executives from leading mobile companies worldwide to build trusted relationships, share insights, explore collaboration and develop international growth strategy.
The conference, to be held on March 22, 2016 at the Fair Center, is expected to host 800 attendees comprising of Internet & mobile industry leaders, investors, entrepreneurs and media. The conference will feature 4 tracks - Thought leader, Mobile Marketing, Gaming and G-Startup.
With the theme, 'Think Ahead', GMIC Tel-Aviv will provide a forum for latest innovations shaping the future of the industry. GMIC Tel-Aviv will explore the impact technology has had on cyber security, mobile marketing, IoT and innovation. Attendees will present the newest and coolest trends and latest mobile technologies out of Israel and their impact on our world as we know it today.
GMIC Tel-Aviv will also bring GMIC's flagship startup competition and launch platform to Israel. G-startup competition is a global platform for innovative mobile internet startups and connecting them to the international investor community to grow and succeed globally. Among some of the previous year winners there are: Hyperverge, Filled and Visualead (Israeli company that received an investment of $5M from the Chinese internet giant Alibaba).
Startups that apply to the G-Startup competition will receive a complimentary conference pass.
The winner of G-Startup Tel Aviv will receive a $50,000 investment prize and the second place winner will receive a $20,000 investment prize. The winner will also receive a free trip to Silicon Valley to compete to become the 2016 G-Startup Worldwide Global Winner. The second place winner overall will receive an additional $120,000 winner and the Global Winner will receive an additional $250,000 investment!
For more information and to apply click here
GMIC Tel-Aviv will also include an expo with over 50 different exhibitors. Some of the confirmed speakers are Julian Ma, Corporate VP, Tencent; Tomer Bar- Zeev, CEO, Ironsource; Jon Medved, CEO, OurCrowd; Gil Dudkiewicz, Founder & CEO, StartApp; Kai Yu, Founder & CEO, Horizon Robotics and Tim Xiong, Head of Startup Incubation at Amazon Web Services (AWS), China.
Share: