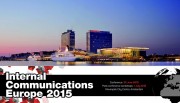 For industry professionals looking to develop their internal communications strategy, there is no better event to acquire strategic advice, practical solutions, and new ideas.
Amsterdam, Netherlands, June 10, 2015 (Newswire.com) - The Internal Communications Europe Conference will be held at Movenpick city center, Amsterdam, June 30.

In addition to the opportunity to network and learn from peers, the conference will feature expert speakers from leading brands, including Vice President of Communications from Philip Morris International, Head of Internal Communications from Danske Bank, Communications Director from Van Lanshot, and many others. Be sure to check out the agenda and the full list of speakers. More details can be found here.
Follow @PRWeekEvents #ICEurope.
Join peers from all over Europe and dig deep into:
How social and digital is reshaping pan-European internal communications

Translating and embedding leadership, culture and vision across different sectors and EU cultures

Developing the right channels strategy for your audience and get the latest on innovative tools and techniques: social, apps, intranet...

Communicating with hard-to-reach and remote employees

Maintaining employee engagement through your journey of change

Measuring and demonstrating "IC's real business benefits and impact in your organization".
Don't miss out! Register now with our special discount code: BLOGS2123.
About PR Week
PRWeek is the world's leading PR and comms publication. In May 2014, it launched the first global PR destination combining the highly regarded US and UK sites and launching a brand new site in Asia. Together, these sites bring a unique regional perspective to global issues with editorial staff based on London, New York and Hong Kong providing news, insight and opinion on the latest, most critical issues. PRWeek epitomises the modern business publishing brand, spanning online, print, events, and social media, incorporating a paid-for content strategy and gated website. Breaking news, analysis, and opinion fuels PRWeek.com and is distributed through the its website, bulletins, apps, magazines and via social media - Twitter and Facebook. Your regional homepage will provide full information of localised content.
Share: