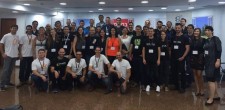 19 Young Entrepreneurs to Watch in 2016.
New York, USA, August 2, 2016 (Newswire.com) - This past July, 8200 - EISP accelerator, Israel's leading entrepreneurship program and run by the 8200 Intelligence Unit Alumni Association, held its final event - Demo Day, featuring 19 start-ups that have completed the 6th cycle of the program.
EISP is one of the most prestigious programs in Israel (and the first to be established in Israel), aiming to leverage the 8200 alumni network for the benefit of new entrepreneurs, coming from diverse backgrounds. The program is a non-profit enterprise and is open to all Israeli entrepreneurs, whether they are 8200 graduates or not.
In recent years we have drastically improved the program's value proposition, and along with full content days, we provided each participant enterprise with offices free of charge at WeWork Tel Aviv, close monitoring by entrepreneur mentors from the industry, consulting time with leading professionals in various fields, and of course, we offered close ties with the industry and investors.

GUY KATSOVICH, Managing director
Guy Katsovich, managing director, who managed the program in recent years said: "We are very proud at the end of the 6th cycle of the program, with 19 additional talented entrepreneurs from diverse disciplines. It was an honor and a privilege to accompany them!
In recent years we have drastically improved the program's value proposition, and along with full content days, we provided each participant enterprise with offices free of charge at WeWork Tel Aviv, close monitoring by entrepreneur mentors from the industry, consulting time with leading professionals in various fields, and of course, we offered close ties with the industry and investors.
I would like to congratulate all the start-ups that took part in the current cycle and its fresh alumni, and of course wish much success to Sarin Fisher, incoming director, starting on the upcoming program."
Inbal Arieli, founder of the program added: "One of the basic principles of the EISP program is its interdisciplinary nature - bringing together startups from completely different worlds of software - fintechsitting side by side with food technology; cyber coupled with retail and the list goes on. It is only then that the magic happens. True breakthroughs and innovations take place when there is open-mindedness and when knowledge, thought processes and the intellectual depth of one discipline are imported into another. In the past 6 years we have accompanied over 100 start-ups from 15 diverse disciplines - creating a strong community of EISP alumni.".
Since its inception, 95 companies have completed the program, with 75 percent of them raising $350 million in funds. Today these companies employ approximately 450 employees and 4 companies have already experienced the exit. Here are the 19 start-ups that completed the 2016 cycle, and all you need to know about them:
1. BlogsRelease is turning blogger influencers into brand storytellers. With a blogger review campaign platform, brands can engage with bloggers all over the world for product reviews, events, and news with just one click. It's where bloggers go to get inspiration and ideas for their next blog post, and where brand owners and PR personnel publish their product review requests, event invitations & brand stories.
2. Connecteam's self-service SaaS platform allows any organization to launch a branded Employee app easily and without need of an IT professional's assistance. The app improves internal communications with employees, productivity enhancing features, and management tools to monitor the performance of employees. Features include internal messaging, surveys, knowledge centers, punch clock, training and many more.
3. GiftWizard makes buying on line gifts fun and easy. It provides on-line stores an alternative, data-driven, gift purchasing experience. Smart profiling of both the gift sender and receiver results in the elimination of most product returns as well as new sales generation. As of today the company works with thousands of on line stores around the world in a wide range of markets. GiftWizard's analytic tools create much needed insights about the E-commerce world.
4. Museloop is a mobile app that turns a visit to a museum into a game. Instead of being bored, now, everyone can stand in front of a work of art and play a game of knowledge. The app also enables the museum to stay in touch with visitors and send them notifications about new exhibits.
5. folyou is a website building platform helping to easily create content-driven professional websites and on line shops in an affordable price.
6. ShapeDo offers end to end management of plan changes in construction and infrastructure projects. ShapeDo'sSaas solution organizes blueprints, compares versions, and enables construction companies to quickly understand updates and make the necessary operational and commercial adaptations.
7. Selffer is an innovative marketing platform for enterprises, which creates personal marketing content from pictures taken at events. Today at events (conferences, employee events and etc.) thousands of pictures are taken and participants have no effective way to reach the most interesting pictures - pictures of themselves. Selffer automatically locates all the pictures of each participant and creates a personal, branded gallery with his pictures by using advanced technology of computer vision. The platform currently operates among dozens of clients.
8. Uniper provides an innovative technical solution turning any existing TV into an home care platform helping older adults to Age in Place in Honorable and Fun Way. The solution helps older Adults to engage with the world and offers care-givers and family relatives new ways to improve their connection and service. The company raised close to $1M and in advanced phases of product development.
9. SALEAD develops an active digital marketing & sales platform – a technology which provides automatic sales solutions for marketing insights and timed BI analysis. All the while using innovative technology of cognitive text analysis engine combined with associative data mining algorithms. To date SALEAD raised more than $1M in 2 funding rounds, including grants, and currently provides its solution to customers around the world.
10. Jammable is a cross platform application that helps musicians record & share themselves play a musical track on top of any song on the web and discover other people who also play along with that song. While most amateur musicians tend to play music at home alone every day, Jammable's solution effectively turns any song on the web into a musical studio in the cloud for musicians from around the world to express their hidden talent and connect.
11. SYNEREO: plug into the emerging decentralized economy. Synereo is the go-to platform to build completely decentralized applications. Synereo's next-gen block chain provides simple, robust building blocks to bring decentralized applications (dApps) to life and instantly connect to a ready-made network. In the emerging decentralized economy, there is opportunity to profit and scale with Synereo's ecosystem of dApps working together.
12. Verstill produces whiskey production lines. The company technology, aimed for wineries, helps wineries turn the barrels they dispose of into a profitable product.The versatile still the company developed allows control over the flavors and scents, and control of the different flavor profile with the same device. The company accelerated aging technology allows the winery to produce whiskey at ⅙ of the traditional time.The company uses the help of advisors from the scotch whiskey industry, and now producing whiskey for Dalton winery.
13. Brainiacts helps mobile advertisers increase their ROI on for the same marketing spend, by automatically focusing their budgets on high-quality publishing channels, based on a predictive algorithm. The system bridges the currently existing gap, in which the data that the advertiser relies on when managing his campaign is gathered automatically, yet is still required to be analyzed manually. By fast and accurate decision making, and process automation, the system enables to maximize Up-to-date, the company is operational with its first big clients, and delivers them over 20% increase for the same marketing budget.
14. ATP Labs is making food-production smarter with data and algorithms. It's patent-pending technology involves scalable connectivity between farmers and food producers, allowing them to learn from each other, and distribute cultivation knowledge to improve crop quality and yield.
15. Parenting Science is developing the next generation developmental accessories for babies, parents and health professionals.Our 1st product - MyBabyGym - is a personalized Tummy Time trainer. It helps parents turn their baby's motor development practice into an enjoyable experience and enable them to track their baby's progress. Additional products use the unique data that the platform gathers in order to help health professionals pre-screen various medical conditions and improve medical treatment effectiveness.
16. Peakardo offers Native commerce solutions for on line publishers and blogs. The Company matches the most relevant products to the publishers readership community. This end to end solution introduces new and meaningful revenue for the publishers. Peakardo is currently active in Israel and in the USA, reaching over 15 million people a month.
17. Fleximatter develop & produce revolutionized 3D printers based on unique software and hardware, that enable production of plastic products at 5% of the time and 5% of the cost than any other 3D printer. These qualities allow global design and local production of up to X,000 peices. By creating a designers marketplace and consumers templates - both will be able to fully customize their products and collect them at printers that will be located at DIY chains. The company do actual sales and looking for an A round investment.
18. Brillianetor's state of the art Artificial Intelligence (AI) technology, provides computers with advanced social skills, comparable to the advanced social skills-set of grownup people. These social skills can be applied across multiple sectors. For example, to enable social group behavior for game characters, manage IOT devices, or combine efforts of multiple devices for better cyber defense protection.
19. Configo is an on-premises continuous delivery platform for mobile banking applications, aimed at managing feature modules and content remotely, combined with a flexible user segmentation engine, teams can make targeted distributions. Configo enables mobile development teams to release new features in a controlled manner, test, measure, fine tune, and even disable them - in production and in real-time without re-submitting the app. Putting an end to bad user experience and creating a safe, straightforward environment for beta testing with real world users The company is in an ongoing POC with some of the leading banks worldwide.
Source: http://www.eisp.org.il/en
Share: